true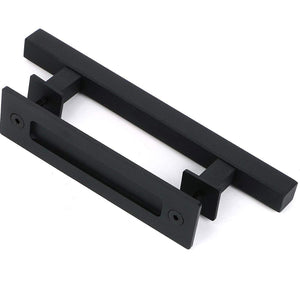 Squared Black Door Handle
Product Details:
Matte black door handle for sliding barn doors
Front pull: 12"L
Back recessed handle: 8"L
FREE STANDARD SHIPPING INCLUDED
Large and substantial, great quality.
This handle was very thick and measures 12' in height. The back is a substantial full hand flush that was very easy to install. We paid for pre-drill onto the the door so we wouldn't mess up the finish on the custom door. Love it!